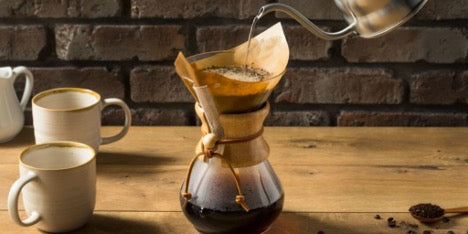 How To Brew a Perfect Pour Over Coffee
We all love a good cup of coffee. And sure, you could just throw some ground coffee into a pot of boiling water, but where's the fun (and flavor) with that?  If you truly want to make the most out of your cup of joe, then pour over coffee is the one of the best ways to go.

The idea behind the pour-over method is simple: water poured over freshly ground beans creates a delicious cup of coffee. 
As you'll see a little bit later, there are all sorts of devices (called "drippers") to accommodate this simple process and it's a lot different than your "Mr. Coffee" type coffee makers.  
What I think you'll find though, is that the rich deliciousness that comes with the process is well worth the learning curve.

Let's get started!

What Do You Need To Make Pour Over Coffee?

Brewing the perfect pour over coffee isn't complicated, but it does require a few very specific tools.
Below, we cover the basic things you'll need to start making a quality cup of pour over coffee.   
Before you open your amazon tab to order everything below, take a breath.  You don't need everything we cover here.  What we cover here is the complete list to make the best (and most consistent) coffee.   
At the end of this guide, we'll provide our short list for those that are just getting started (and who to do this without buying anything except a dripper and some filters).
A Complete List of the Tools:
1. Scale:
Invest in a good coffee scale to help you measure your ingredients and keep up with consistent measurements. A kitchen scale is ideal, but use whatever you're comfortable with.
2. Coffee:
Find the grind size that suits your taste and brew method best, as this will make all the difference in getting the most flavor out of your coffee. The ideal size is medium-fine and will be just suitable for a pour over coffee.
3. Grinder:
Having the right grinder is essential to getting the perfect cup. If you're using a hand grinder, start with larger grounds and slowly grind until you reach the desired size. If you're using a burr grinder, set the coarseness and grind your desired amount.
4. Scoop:
A scoop is a great way to measure your coffee and keep consistency in your pour over coffee. Invest in a good metal scoop that will last you a long time and produce the same results each time.
5. Filter:
You have two options here - paper vs. cloth filter. The paper filter will give you a clearer cup of coffee and remove the oils, while a cloth pour over coffee filter may let some sediment through but retain more flavor and oils. We recommend using the reusable earth and coffee filter because it does a good job when filtering. You can buy it from here.
6. Dripper:
The dripper is where your pour over method comes together. There are several options on the market but if you want the absolute best, go for either Melitta, V60, or the Chemex. Melitta is a classic, while the V60 and Chemex are more modern designs.
7. Kettle:
You'll need a good quality kettle to get your water up to temperature for your pour over coffee. Whether you choose a stovetop or electric model, just make sure it has an adjustable temperature control so you can adjust the temperature to your specific coffee.
8. Range:
You'll also need a gas or electric range to heat up your water in the kettle. This will ensure that your water is hot enough to extract all the flavors from the coffee grounds.
9. Mug Or Carafe:
Finally, you'll need something to pour your coffee into. Whether you choose a mug or carafe, make sure it's large enough to hold all the coffee you've brewed.

When you have all the tools and ingredients necessary to brew up a perfect cup of pour over coffee, get ready for an amazing cup of coffee that you'll savor sip after sip.

Now that we've covered the basics, let's talk about how to actually use them for the perfect pour over. Here are the step-by-step instructions for a great cup of pour over coffee:
The Brewing Process


Once your materials are ready, it's time to start brewing. The pour over method is a great way to make amazing coffee that not only tastes great but also puts the control of the brew in your hands. Here are some steps to ensure you get the perfect cup every time:

1. Start by grinding your coffee beans. Depending on the type of grind, you may need to adjust the water-to-coffee ratio. Typically a medium-fine grind is recommended for pour over brewing.

2. Use filtered or spring water and ensure it's heated to 195 degrees Fahrenheit for optimal flavor extraction.

3. Place your filter into the pour over device and give it a quick pre-soak with hot water. This will reduce any papery flavor from the filter and help your grounds bloom.

4. Aim for a coffee-to-water ratio of 13-16:1, depending on your taste preference. Start by pouring in just enough water to cover the grounds (this is your "bloom") and wait for about 30 seconds.

5. Finally, continue pouring water in a circular motion over the grounds until you reach the desired amount of coffee you want to make. The entire process should take 2-4 minutes, depending on how much coffee you are making.

The Outcome
Once done, you should have a flavorful and delicious cup of coffee. The result should be less bitter than traditional drip coffee and more balanced in flavor with notes that can really shine through. Enjoy your perfect pour over coffee!

Possible Mistakes And How To Avoid Them?
Brewing the perfect cup of pour over coffee can be tricky. There are a few mistakes that you might make while brewing, but don't worry - they're easy to fix!

Mistake#1 - High Temperature
One mistake you might make is using water that's too hot. You want your water temperature to be around 195-205°F (90-96°C). If your water is hotter than this, it can burn the grounds and result in a bitter brew. To avoid this, use water 2-3 degrees cooler than you normally would.

Mistake#2 - Too Fast of a Pour/Brew
Another mistake you might make is pouring too quickly. This can lead to an under-extracted brew that's too watery and tastes bland. To avoid this, try grinding your coffee finer and pour less water at a time - this will give the grounds more time to extract flavor into the water.

Mistake#3 - Too Long of a Pour/Brew
You could be pouring too slowly and not using enough water. This can cause an over-extracted brew that tastes sharply bitter. To avoid this, try grinding your coffee coarser and increasing the amount of water you use.

No matter what mistakes you make while brewing, it's important to remember that you can always adjust the grind or water temperature to get the perfect cup of pour-over coffee. With a few simple tweaks, you can soon brew coffee like a pro!

Why Does My Pour Over Coffee Have A Watery/Bland Or Sharp Bitter Taste? How To Make It Right?
A common problem many face when brewing pour over coffee is that the brew tastes watery/bland or has a sharp, bitter taste. This could be caused by various issues, but the most common issues are grind size, brew time, water temperature, and pouring technique.

Adjusting your grind size is essential for making a delicious cup of pour over coffee. A finer grind will give you more surface area to extract flavor from the beans, helping to create a richer and more balanced cup. However, if you go too fine, it will result in over-extraction, leading to bitterness.

On the other hand, if you grind too coarsely, your coffee may be watery and lack flavor. Generally, for pour over coffee, a medium-fine grind size is best – this should give you the perfect balance between extraction and flavor.

Brew time is another crucial factor. Too short of a brewing time, and you will end up with an under-extracted cup; too long, and your coffee will be over-extracted. The ideal brew time for pour-overs is usually between 3 – 4 minutes.

Don't neglect the quality of the coffee beans. Coffee can become stale within days of being roasted, so try to use freshly-roasted coffee as often as possible for the best flavor. Also, store your beans in an airtight container away from heat and light - this will help keep them fresher for longer.

Lastly, the filter plays an important role too. It's no hard and fast rule to use a specific filter but if you wish to enhance the taste of your coffee, try the Earth And Coffee Filter. You'll know the difference once you use it!

The Takeaway
Brewing a perfect pour over coffee is an art, and once you have perfected the technique, it can be a great way to impress friends or give yourself a luxurious cup of coffee. Start with freshly-roasted beans, get a quality filter such as the Earth And Coffee filter and use quality water for best results. When done right, you will enjoy a rich, balanced cup of coffee with intense flavor and aroma. Happy brewing!