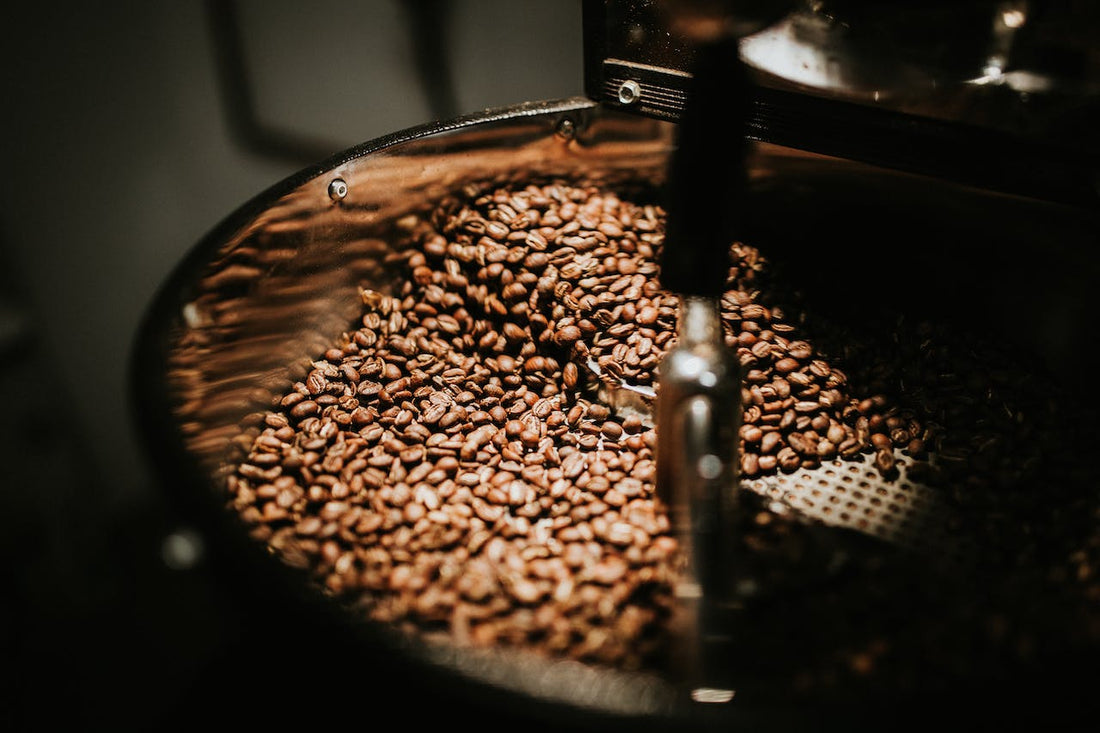 Roast Coffee at Home: Your Coffee Roast Guide
Home coffee roasting has been one of the greatest ads to my life.
There's something truly magical about the process of transforming green coffee beans into a fragrant, flavorful brew right in your own kitchen.
Not to mention, the joy that comes when you roast one of the best coffee's you've ever had!
In this beginner's guide, we'll walk you through the basics of roasting coffee at home. Where appropropriate, and if you want to dig deeper, we'll provide links to additional reading to help round out your knowledge base.
Understanding Coffee Roasting
Before we dive into the nitty-gritty of home coffee roasting, it's essential to understand what roasting's all about.
At its core, coffee roasting is the science and art of applying heat to green coffee beans to unlock their rich flavors.
When you roast at home, the result is a cup of coffee that's a world away from store-bought varieties.
The key lies in knowing how to manipulate variables like time and temperature to coax out the desired flavor profiles from your beans.
While we don't get it to it in detail here, as you begin to roast and learn more, you'll find an almost infinite world of flavors you can put into your cup.
Now, let's delve into the nitty-gritty of roasting at home a bit more.
Roasting Coffee at Home Supplies
To embark on your coffee roasting journey, you'll need a few essential supplies. Here's what you'll need to have on hand:
Scale

:

As you'll quickly learn, coffee roasting is just as much science as it is an art. So you'll want a scale, preferably with a time so you can use it to brew your coffee too.

Any scale will do, I picked this inexpensive option up and it does the job.
Green Coffee Beans

:

The starting point for any roast. Choose high-quality beans to set the foundation for great coffee.  Here are my 3 go to sources for green beans to roast at home:

Sweet Marias - So far this company offers the best and highest quality beans for the home roaster.

Coffee Bean Corral - Another favorite of mine.

Burman - Old school company that sells high quality green beans.  They're just a bit light on information.
Timer:
Before you ever start your roast, you'll need to be able to track your time, temp, stages, and milestones with in your roast curve. I like to just use my phone when roasting coffee at home.
Having a place to log all of this info can be as simple as a note on your phone, a notebook, or an excel spreadsheet like this one.
Coffee Roaster:
You can use an oven, a popcorn popper, or invest in a dedicated coffee roaster. Each method has its pros and cons, but the choice is yours.
Cooling Tray:
This helps to cool the beans quickly once they're done roasting, preventing over-roasting.
I've used this one for over a year, and have nothing but good things to say about it.
Storage:
Once you're beans are cooled, you'll need to store them so that they can rest and retain as much flavor as possible.  I like to use these storage cans.
Selecting Green Coffee Beans
While all three of the sources above are great places to buy your green beans, I wanted to call a couple quick bits out.
The flavor of your coffee starts with the beans themselves.
So when you're looking to buy your first batch of beans, ask yourself these three questions:
What kind of coffee am I trying to roast (light and bright, smooth and balance, or dark and strong)?
Not all beans are best at all roast levels, and depending on what you're trying to get, you'll want to select origins and beans appropriately.
Once you know the general type of coffee you're trying to create, it's time to ask about specific flavor notes you like.
What types of flavor doing I want to bring out in my cup?
Different origins and beans have different flavors that come forward.
Personally, when I started to roast, I wanted chocolaty bitter-sweets in my coffee - I started with El Salvador.
Today, I prefer a light and bright cup that's filled with berry and floral notes. This means a lot of Ethiopian, Panamanian, and select Honduran coffees.
Figuring out what you want to taste in your cup, will really help you pick the best beans to start with.
Next we can move onto how to get the flavors from the bean to a cup.
How do you make your coffee?
While technically this isn't a roasting question, some roast levels (Light, Medium, etc.) tend to create better cups in one brewing method instead of another.
For example, Light roasts that are full of floral and aromatic flavors tend to do best with a pour over. Where as darker roasts might do better with French Press.
There's no right and wrong, and it doesn't really matter when you're starting out. But knowing could get you a more enjoyable cup a bit faster.
At the end of the day, start with what you think you like and then take time to explore different coffee origins and their unique flavor profiles.
This is one of the best parts of home roasting!
Before we jump into the roasting process, let's take a quick look at some of the basic aspects of keeping your save while you roast.
Safety Precautions
It might not seem like it, but roasting coffee at home does come with some risks. Albeit they're low risks, but here they are.
Lighting your house on fire:
Okay, maybe this is a bit extreme, but you you are using fire/heat to cook the beans. And with coffee, there are two things that if we're not mindful, can ctch on fire.
Chaff:
Every coffee bean has a layer of 'skin' on them that breaks loose during the roasting process. This can catch on fire. The key is to ensure your roaster is clean, and can easily allow the chaff leave the roaster. Most home coffee roasters do this well.

Beans:
Yep, the beans themselves can actually catch on fire. Wild right? I didn't know this was possible until I started roasting coffee at home. But at the darker roast levels (which can happen ery quickly after 2nd crack), the beans can develop a lot of oil on their surface. If they collect too much, this is a very really fire risk. Thankfully, most of us that are roating coffee at home tend to enjoy roasts that don't get this dark.
At the end of the day though, when roasting coffee at home, ensure proper ventilation to dissipate smoke, and be prepared to handle any potential fire hazards. It's better to be safe than sorry.
Now, let's dive into some generalities and best practices for roasting coffee at home.
The Roasting Process
Finally, the heart of the matter: the roasting process itself.
As you can imagine with any product that is a household staple, there's an art and a science to roasting coffee.
We won't get into that here, but if you're starting to roast at home, and want more detail of the actual roasting process, read this article.
But enough about what this article isn't about, here's a simplified breakdown of the steps you can expect to do:
Plan:
Yeah, it all starts with a plan. What roast level do you want to create? Are you looking for a light and fruity cup, or do you want a strong and rich cup? Planning this out ensures you'll create a great roast.
You can learn more about roast levels here.
Prep:
Weight your beans, get your supplies ready, and log the key information on your roast log (LINK TO GOOGLE SHEET)
Preheat:
Get your roaster up to temperature before adding the beans. This is key, you want your roaster to have maintined your drop temperature for a few minutes before charging.
Add the Beans:
This is called "charging." Place your green coffee beans into the roaster and let the roast begin.
Monitor Temperature:
Keep a close eye on the temperature as the beans roast. Different temperatures at different stages will produce varying flavors. Personally, I like to watch and log temps every 30 seconds on my home coffee roaster.
You can read more about coffee roast stages here.

Listen and Watch:
This part is super fun! Pay attention to the sounds and colors of the beans as they roast. They'll go through distinct stages, from green to yellow, and eventually, your desired roast level.
You can read more about coffee roasting temperatures here.

Cooling:
Don't overlook this step! Once you've achieved your desired roast level, transfer the beans to a cooling tray to halt the roasting process. Thnk about frying an egg, it's still cooking when you pull it off the heat and easy to overcook. Same thing with coffee beans

Storage:
After you roast your beans, you'll need to let them rest a bit and off-gas any extra Co2. This usually take 1-3 days. I like to use these tin cans from Sweet Marias
Enjoy:
This is where you get to experience your work. Grab your fresh roasted beans, grind them up, and brew a batch of your beans. The more you roast, the more you'll be able to taste the roasting process. Making every cup a delightful mix of exploring and learning. This parts more fun with friends too!
At this point, congratulations! You're officially a home coffee roaster!
It only becomes more fun from here. You get to experience any type of coffee you want, at any roast level, and learn how to consistently develop the flavors you enjoy most.
As you explore, roast, and sip your way deeper and deeper into this cup of home roasting, embrace the curiosity of they learners mind and I"m sure you'll have a great time - and coffee!
Enjoy!